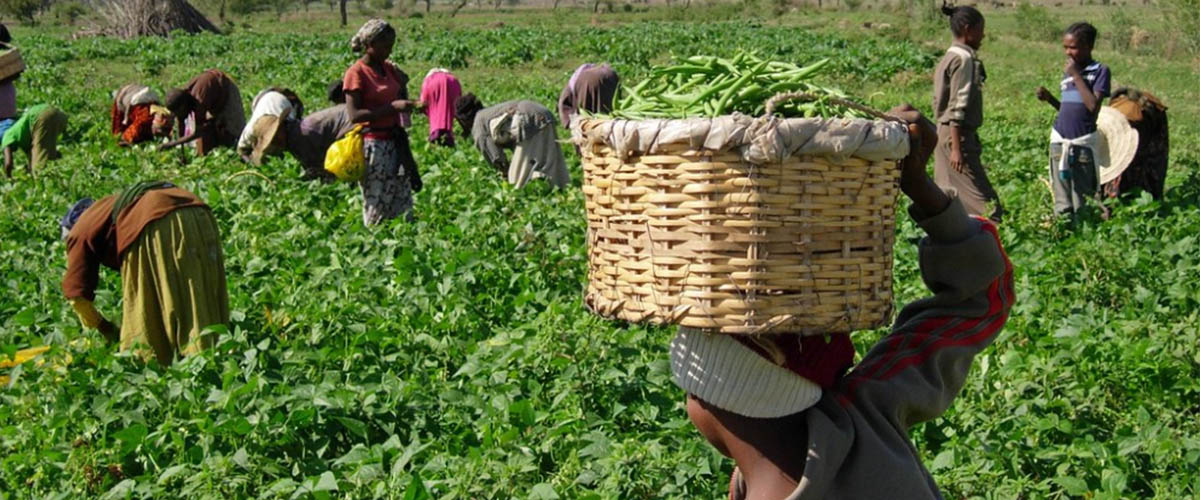 Harvesting
Bean Physiological Maturity; is a stage where the crop has achieved maximum growth (usually 58 to 120 days) after planting and has the following indicators;
Bean leaves turn yellowish with mature veins
Shading of leaves in some varieties
Seed texture hardens
Seed color becomes more pronounced
Pods harden and become light brown
Methods of Harvesting
Manual/ Hand harvesting
Manual /Hand harvesting is the commonest method in Uganda and is considered practicable for crops under small scale production. It is carried out by uprooting of bean plant from the soil. The activity requires 6-10 people /acre/day.
Mechanical harvesting
This is the harvesting of beans using machines and is suited for large farms. Machines simultaneously harvest, thresh and clean the grain. It has the advantage of ensuring quality, reducing losses in addition to time & labor-saving.
Common practices to avoid during harvesting
Harvesting premature/ early harvesting: This results into shrinkage and rotten beans.
Delayed harvesting: Leads to attack by pests and animals, shattering of pods, physical loss and rotting of grain.
Carrying soil on the roots of the harvested beans: This increases contamination opportunities for aflatoxins and other contaminants.
Leaving the beans to dry in the field after they are harvested: Leads to the attack of pests and animals, shattering of pods, loss of grain and rotting.
Quality control measures
For fresh beans, harvest as pods starts turning yellow.
For dry beans, harvest when pods turn brown.
For climbing beans continue harvesting as they mature.
Place the harvested plants on a tarpaulin or mat.
Where weather does not allow uniform drying of beans in the garden, carry out selective harvesting.
Value Addition
Milling
Beans to less extent can be milled to produce value-added bean products such as bean-based flours, bean cookies and snacks.
Bio-fortified beans
The biofortified beans are bred to have high levels of iron and zinc. They can be grown easily like any other common beans that farmers are growing. The only difference with these beans is that they have relatively higher levels of iron and zinc and this translates into higher levels of these nutrients being taken up by whoever consumes them.
Pre-cooked beans
Under new technologies and innovations, selected bean varieties are pre-cooked under high temperatures and pressure resulting into dry processed pre-cooked beans. The product is packed in various types of packaging materials made of weather-proof aluminum sachets, plastic containers and bags of varying sizes and sold to the market/ consumers. The product has a shelf of up to 6 months.